Committing to the Project of Torah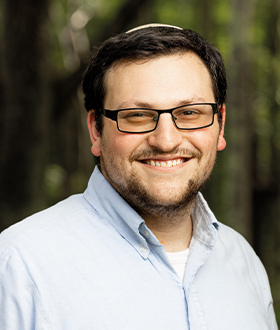 These remarks were originally delivered by Akiva Mattenson at the Capstone Celebration of Hadar's Advanced Kollel on June 26, 2023.
How do we commit ourselves to the project of Torah? What does it look like to care about Torah?
In Sefer Devarim (11:22) we read:
שמר תשמרון את־כל־המצוה הזאת
"You will keep, yes, keep, all this commandment."
In a midrash, our Sages offer three reflections on this phrase that outline a powerful vision of Talmud Torah, a vision that has implicitly guided our learning together these past few years.
First, they take note of the word "keep." We may have expected the word "listen."
Torah, they say, is not something you can simply listen to, letting it wash over you. Torah is something that must be kept, preserved and carefully tended. One must internalize it and have it close at hand. Being a rabbinic figure in people's lives requires us to be a reliable source of wisdom and guidance in moments that call for immediate response, not just practically but also emotionally, שיהיו מחודדים בתוך פיך. כשאדם שואלך דבר, לא תהא מגמגם לו אלא אמור לו מיד / "they should be sharpened in your mouth, so that when someone asks you something, you don't stammer; instead, you respond to them immediately."
All of us in this Kollel know the seriousness with which we have taken this directive. We have spent thousands of hours in the beit midrash and taken demanding five-hour, closed-book exams in Hebrew on major units of halakhah, ensuring that this material is inscribed on our hearts. We have paid close attention to every detail we have learned. We have tried to live up to the mandate to be ומשקלם תורה דברי מברר / "to sort and weigh Torah's words:, to listen to all of its voices and the competing values they encode. Our careful learning has enabled us to see the Torah in new ways, appreciating its wisdom, its manifold possibilities, and the implications it has for our real lives.
Second, the sages dilate on the phrase "all of this commandment." If we are to keep the Torah, they say, we must preserve it all. Torah speaks in many registers and we must commit ourselves to learning from each of them. From the beginning, this Kollel was envisioned as one that would make time for the whole of Torah. Together, we have studied midrash, aggadah, Tanakh, parshanut, hasidut, tefillah, and Jewish philosophy and in so doing we have deepened our appreciation for the scope and power of God's word. Nothing in Torah is empty or devoid of wisdom, and if it feels at first that it is, than is on us to dig deeper.
Finally, our Sages consider the word "you will keep". Torah is addressed to you: the assembled totality of the Jewish people. In the sages words, מגיד בתורה שוים שהכל / "this teaches that all are equal when it comes to Torah." The project of Torah is for you, for us. If Torah truly belongs to us all, then, as rabbinic leaders, we have to be accountable to everyone, and Torah must speak to and for us all. This sweeping vision is something we all share in this Kollel, and something that has been emphasized by our teachers who are an inspiring paradigm of what it looks like to try to realize this vision in practice.
Torah is God's great gift to the Jewish people and the world. It asks us, all of us, to keep it, all of it. We pray that we are worthy to be its stewards.