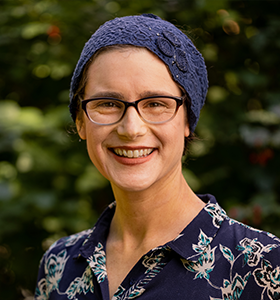 These remarks were delivered by R. Aviva Richman, Rosh Yeshiva of Hadar, at the Capstone Celebration of Hadar's Advanced Kollel on June 26, 2023.
What does it mean to cultivate Torah in our current environment, prone to crisis yet rich with new potential?
We must draw upon all the resources we can.
In defining פרי עץ הדר / the fruit of a beautiful tree, a "Hadar" tree (also know as the etrog) - our tradition in Masekhet Sukkah teaches that it grows not exclusively from rain water or irrigation but from "all waters" - גדל על כל מים. 
Dear Kollel, you grow from far-reaching roots and many waters. 
Hadar's vision to transform the Jewish world is one of intentional synthesis, as we reconfigure assumptions about which diverse elements of Judaism can animate a single space and ethos.  
Pioneers have expanded the palace of Torah so that your teachers, and now you, could see ourselves as protagonists in Torah, with the responsibility and privilege to tend the tradition's unfolding in new ways. The generative questions of Jewish feminists; academic inquiry to unveil the dynamic and multi-vocal nature of Torah; post-modern wrestling with the nature of divine and human agency; spiritual-musical creativity — all these nourish our roots. Integrated with rigorous traditional learning, daily prayer and practice, deep accountability to halakhah, a vision for normative community and the breadth of klal Yisrael, these roots produce truly beautiful fruit. 
We are in an environment prone to crisis - socially, politically and in the land itself. To be resilient, you must grow from many waters. Spread far reaching, sensitive roots. Just as you have learned to plumb texts of Torah for insight, orient yourselves towards the potential for insight in all people and situations. גדל על כל מים / Grow from all waters. Resist doctrine that constrains you to "one rainy season." Respect every person you encounter as a potential source of Torah. Speak to them and about them that way. In a polarized world, seek deep connection everywhere.  It is rare, it is hard, but it is the only way to be pri etz hadar.
Mori ve'rabi R. Danny Landes - who gave semikhah to me and a number of colleagues at Hadar - you are a descendent of traditional poskim and an insatiably curious thinker, making Talmud and halakhah philosophically rich, theologically poetic, and interpersonally responsible. You have traveled far and wide to share and stoke a passionate love of Torah. You are a careful listener, in generative havruta with everyone you teach. Thank you for honoring us with your presence and words.
Professor Vered Noam - you are a rock of careful study, opening new perspectives into core texts of Torah. Opposing fundamentalism, you insist that we are better equipped to address our moment's complex religious questions by understanding the complexity of our past. You integrate the worlds of critical inquiry and devotional practice, a woman who is leader and trailblazer from the prestigious Israel prize to your egalitarian neighborhood morning minyan, infusing your courage and scholarship with a love of Torah and community. Note that Professor Noam will speak in Hebrew, with translation projected.
We stand on your shoulders and those of so many others. Thank you for representing a generation of leadership without which tonight would not have been possible.