Hadar Announces New Initiatives for Teens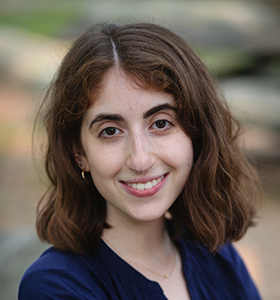 The Hadar Institute is excited to announce a new set of efforts to empower and inspire  Jewish teens across the country. These initiatives will be led by Aliza Abolafia, who will start this summer as Hadar's first-ever Associate Director of Teen Empowerment.
"Jewish teens are searching for religious meaning," said Abolafia. "They need pathways to learn and live out Jewish texts and tradition without compromising on integrity, honesty, or social responsibility. I'm thrilled to work with Jewish teens to deepen and develop their religious and spiritual lives."
The Hadar Institute, a center of Jewish learning serving North America and Israel, has long been a magnet for young adults seeking passionate Torah study and committed Jewish practice, in an egalitarian setting. Now, we are delighted to offer teens the opportunity to experience that vision of vibrant Jewish life, learning, and practice in new arenas.
While Hadar already engages hundreds of teens through the Maimonides Moot Court Competition, an annual competition where teams of high school students debate contemporary ethical questions using Jewish legal wisdom, this new expansion into teen programming will focus on three key areas:
Partnership with Camp Yavneh 
As part of her role as Associate Director of Teen Empowerment, Aliza will spend her summers at Camp Yavneh as a mashgihah ruhanit (spiritual advisor), working closely with staff to strengthen, expand, and elevate Camp Yavneh's prayer and learning experiences. Camp Yavneh will also employ Hadar's outstanding Jewish content, including Devash, Hadar's weekly parashah magazine for kids, Maimonides Moot Court curricula and Project Zug's paired learning resources to enhance the learning environment this summer.
 
Partnership with the Shalom Hartman Institute of North America
We are also excited to announce a partnership with the Hartman Teen Fellowship, a program of the Shalom Hartman Institute of North America for Jewish high schoolers in grades 10-12. Teen fellows cultivate their Jewish identities and worldviews, contemplate fundamental Jewish questions, and join a community of insightful and motivated peers and mentors from across North America. Hadar has partnered with Hartman to bring diverse opportunities for engaging and learning about prayer and ritual, with experiences and classes led by Aliza and Hadar faculty members. Applications currently are open on a rolling basis. 
 
New Teen Experiences
Throughout the coming year, we plan to announce new programs, fellowships, shabbatons and other opportunities for teens. These new prayer, learning, and community-building experiences will give teenagers the chance to experience Hadar's vision of Torah, Avodah, and Hesed.
Aliza will start her new role this summer. We look forward to sharing more information about Hadar's offerings for teens! 
Meet Aliza Abolafia
Aliza Abolafia is the Associate Director of Teen Empowerment at Hadar where she works with Jewish teens to deepen and develop their religious and spiritual lives. Aliza holds a Master of Divinity from Harvard Divinity School and spent two years learning full time as a fellow at Yeshivat Hadar; experiences that have deepened her commitment to the transformative and affirming power of sacred text. Aliza serves as mashgihah ruhanit (spiritual advisor) at Camp Yavneh in Northwood, NH (where she spent 14 years as a camper and staff member) and as Spiritual Leader of the Havurah Minyan of the Capital District in Albany NY. A life-long learner as well as an educator, Aliza is passionate about leading spiritually impactful Jewish experiences for all ages.