R. Aviva Richman will write Hadar's 5782 weekly Dvar Torah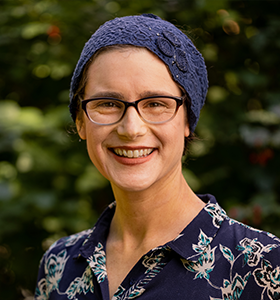 Monday, September 13, 2021
We're delighted to announce that Rabbi Aviva Richman, Rosh Yeshiva of Hadar, will write our 5782 weekly Dvar Torah! Subscribe now to receive weekly emails beginning with Parashat Bereishit.
Rav Aviva's essays will offer a close reading of the parashah through the lens of the dynamics of relationship -- between ourselves and others and between humans and God -- drawing out insights on the interpersonal and the theological and offering possibilities for relationships rooted in mutual dignity and growth.
"The goal is to approach Torah with an open mind, an open heart and open hands," said Rav Aviva. "The essence of these Divrei Torah is about articulating and embracing our deepest questions, hoping for what we learn to affect us emotionally, and not only intellectually, and taking responsibility to put our learning into action."
By weaving in voices of wisdom from classical Rabbinic texts, traditional commentaries, critical academic insights, feminist thought, modern social sciences, and poetry, this Dvar Torah collection will offer an honest, meaningful, and integrated vision of Torah.
Subscribe to Hadar's 5782 parashah email and receive Rav Aviva's unique takes on the weekly Torah portion directly to your inbox.
Hadar's 5782 parashah email will also include a digital download of Devash, our new parashah magazine for children and families. For more information about Devash, and to view the inaugural issue, visit Hadar's website.
About Rabbi Aviva Richman
Rabbi Aviva Richman is a Rosh Yeshiva at Hadar, and has been on the faculty since 2010. A graduate of Oberlin College, she studied in the Pardes Kollel and the Drisha Scholars' Circle and was ordained by Rabbi Danny Landes. She completed a doctorate in Talmud at NYU. Interests include Talmud, Halakhah, Midrash and gender, and also a healthy dose of niggunim.