JJGI Fellowship for Rabbis and Senior Educators
Overview
The JJGI Fellowship for Rabbis and Senior Educators is a unique opportunity combining professional development and personal and spiritual growth. Fellows will study with Rabbi Yitz Greenberg, engaging with his core ideas on Jewish theology, and developing and deepening their own theological perspectives. After the fellowship is concluded, fellows will translate their learning into practice by teaching Torah inspired by their fellowship and Rabbi Greenberg's theology in their home communities and beyond.
Upon completion of the JJGI Fellowship, all fellows will receive a $1,000 stipend in recognition of their time and commitment.
Schedule
Faculty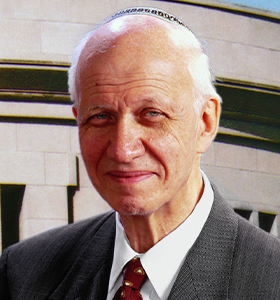 Rabbi Yitz Greenberg
Rabbi Yitz Greenberg serves as President of the J.J. Greenberg Institute for the Advancement of Jewish Life and as Senior Scholar in Residence at Hadar. R. Greenberg was ordained by Beth Joseph Rabbinical Seminary of Brooklyn, New York and has a doctorate in history from Harvard University.
Rabbi Shai Held
Rabbi Shai Held is President and Dean at Hadar. He is completing work on his next book, Judaism is About Love (forthcoming). His most recent book, The Heart of Torah, a collection of essays on the Torah in two volumes, was published in 2017.
Arna Poupko Fisher
Arna Poupko Fisher teaches in the Department of Judaic Studies of The University of Cincinnati and is a guest lecturer at the Hebrew Union College - Jewish Institute of Religion.  She lectures on subjects pertaining to Bible, Jewish Thought, Pedagogy and the relationship of Modernity to Jewish practice. Arna is a member of the core faculty of the Wexner Heritage Foundation. 
Rabbi Steven Greenberg
Rabbi Steven Greenberg is an Orthodox ordained educator, writer, and speaker who has led the call for LGBTQ inclusion in the Orthodox world.  He appeared in the groundbreaking film, Trembling Before G-d, in 2001 and accompanied filmmaker, Sandi Simcha DuBowski, all over the world in over 500 post-screening dialogues.  He is the author of the award-winning book, Wrestling with God and Men: Homosexuality in the Jewish Tradition, (University of Wisconsin Press) for which he won the Koret Jewish Book Award for Philosophy and Thought in 2005. Rabbi Greenberg is also a founder of the Jerusalem Open House, Jerusalem's first gay and lesbian community center, and served as a faculty member of the Hartman Institute of North America. He is the Founding Director of Eshel, Orthodox LGBTQ+ community support, education, and advocacy organization, and lives with his partner, Steven Goldstein, and daughter, Amalia, in Boston.
Eligibility
This fellowship is for mid-career rabbis and senior educators. Any rabbi or educator with at least 5 years of experience and an eagerness to engage in transformative Jewish learning and thinking is encouraged to apply.
2022-23 Fellows
Rabbi Aaron Alexander
Rabbi Nathan Alfred
Rabbi Julia Appel
Rabbi Alex Braver
Rabbi Daniel Burg
Rabbi Guido Cohen
Rabbi Ruth Gelfarb
Rabbi Adam Gindea
Rabbi Ilan Glazer
Rabbi Benjamin Herman
Rabbi Hazzan Rachel Hersh
Rabbi Lauren Holtzblatt
Rabbi Ari Kaiman
Saul Kaiserman
Rachel Landsberg
Dr. Jennifer Lemberg
Rabbi Anna Levin Rosen
Rabbi David E Levy
Dr. Sandra Lilienthal
Rabbi Yehoshua Lindenbaum
Nechama Malkiel
Rabbi Idit Mevorach Shaag
Rabbi Kelilah Miller
Rabbi Daniel Schaefer
Rabbi Sid Schwarz
Rabbi Zachary Sitkin
Judith Talesnick
Rabbi David Vaisberg
Etan Weiss
Rabbi Aron Wolgel
2021-22 Fellows
Rabbi Nelly Altenburger
Rabbi Elan Babchuck
Rabbi Leah Berkowitz
Tova Birnbaum
Rabbi Neil Blumhofe
Rabbi Catharine Clark
Rabbi Ed Feinstein
Rabbi Neal Gold
Rabbi Ariel Goldberg
Rabbi Katie Greenberg
Rabbi James Greene
Rabbi Jarrod Grover
Rabbi Shmuel Hain
Rabba Sara Hurwitz
Rabbi Jill Levy
Rabbi Sara Luria
Rabbi Craig Marantz
Rabbi Laurie Matzkin
Rabbi Jay Moses
Rabbi Justin Pines
Rabbi Joshua Rabin
Rabbi Baruch Rock
Rabbi Sara Sapadin
Rabbi Hal Schevitz
Rabbi Jennifer Schlosberg
Rabbi David Schuck
Rabba Dr. Anat Sharbat
Rabbi Hannah Spiro
Rabbi Daniel Stein
Rabbi Micah Streiffer