Philadelphia Campus Learning Cohort
Overview
Join college students from across Philadelphia to build community, discuss new ideas, and engage with Jewish text. 
Guided by Rabbi Micha'el Rosenberg, we'll explore "God Talk for Adults." Who is God? Is belief in God an essential component of Jewish life? What is, could be, or should be, our relationship with God? We'll spend six weeks learning a wide variety of texts--biblical, Rabbinic, Hasidic, and contemporary--and having a conversation about God that goes beyond childhood platitudes.
Hadar is committed to Torah that is uncompromisingly honest, spiritually meaningful, and socially responsible. We read both ancient and modern texts carefully, discussing possibilities, and exploring how the text may be relevant to contemporary situations. Learn with each other and Hadar as we explore our textual heritage for meaning and purpose.
Fellows will meet in-person 6 times over the course of the spring semester for dinner, learning, and community building. Our first session will focus on building relationships between students and give an introduction to our semester together. All sources will be provided the original language and English translation. 
Students will receive a $200 stipend upon completion of the cohort.
Schedule
Fellows will meet in-person 6 times over the course of the Spring semester for dinner, learning, and community building. A typical session will include the following:
Faculty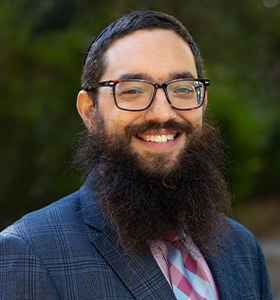 Rabbi Micha'el Rosenberg
R. Micha'el Rosenberg is a member of the Hadar faculty. He holds rabbinic ordination both from the Chief Rabbinate of Israel and from his teacher, R. Elisha Ancselovits, and has a doctorate in Talmud and Rabbinics from the Jewish Theological Seminary. He is the author of Signs of Virginity: Testing Virgins and Making Men in Late Antiquity (2018), and, with Rabbi Ethan Tucker, of Gender Equality and Prayer in Jewish Law (2017).
FAQs
The Philadelphia Campus Cohort is for college students from Philadelphia area campuses interested in engaging with Jewish texts and each other.  
Applicants must:
Be a current undergraduate student at a Philadelphia area college/university
Be willing to travel to other campuses for evening sessions approximately twice a month (travel reimbursed)
Cohort Dates
The cohort will meet six Wednesdays over the course of the 2024 spring semester:
January 31
February 14
February 28
March 13
April 3
April 17
The deadline to apply is January 15, 2024.