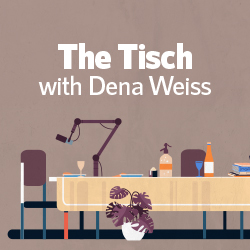 The Tisch with Dena Weiss #10
One of the distinctive features of traditional Jewish prayer and study is shuckling, moving back and forth. The Zohar explains that this movement of the body is more accurately understood as the movement of the soul. The spirit of holiness and purity moves in response to the connection that it feels when engaging with holy words. The body is moved by the passion and excitement that the soul feels in connecting with God.
The Kedushat Levi links this motion back and forth with a core human trait: our fear of intimacy, going toward the fire of revelation, but pulling back as well. How can we navigate this tension?

"Yemin Hashem" and "Nigun Hisva'adus" from RAZA Kapelya (2023) by Chana Raskin. Produced by Joey Weisenberg and Chana Raskin for Hadar's Rising Song Records.