Building Singing Communities
About the Book
Building Singing Communities is an easy-to-read, how-to guide to making music a lasting and joy-filled force in shul and Jewish life. In this short book, author, musician, and educator Joey Weisenberg presents us with a veritable treasure house of musical opportunities. "Just think how far we could come," says Weisenberg, "if we treated the songs sung by our day-to-day, lay synagogue community as seriously as we do the music created by professional stage musicians? We could create an atmosphere of both great beauty and drama in our spaces of prayer; we would value each and every individual in our community as a creative musician, and encourage his or her efforts in an attitude of musical collaboration."
Building Singing Communities is for the experienced musician and the musical layman alike. Its pages are full of practical guidance and heartfelt inspiration—the result of Weisenberg's spending hundred of hours working hands-on with Jewish communities across the U.S. and abroad. Pick it up when you need advice for leading a class; keep it close at hand for inspiration about how to make your shul a more song-filled place—or even for what to sing at your Shabbos table. "It's my hope that, with this collection of strategies you'll re-actualize the talents and potential of your community," writes Weisenberg, "reaping the benefits of re-starting what is, in fact, our beautiful, longstanding tradition of collective Jewish song."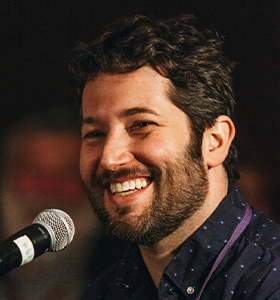 Joey Weisenberg
A virtuosic multi-instrumental musician, singer, and composer, Joey Weisenberg has devoted himself to opening up the sounds of people singing together in community. The founder and director of Hadar's Rising Song Institute, which aims to cultivate the grassroots musical-spiritual creativity of the Jewish people, Joey works to educate and train communities around the world to unlock their musical-spiritual potential and make music a vibrant, joy-filled force in Jewish life. Joey is the author of Building Singing Communities, a practical guide to bringing people together in song, as well as The Torah of Music, a treasury of Jewish teachings and insights about the spiritual nature of music, which received the National Jewish Book Award in 2017. A devoted student and teacher of ancient and traditional Jewish melodies, Joey composes new nigunim that have moved and inspired Jews around the world. He has released eight albums of original music, most recently L'eila, available on Rising Song Records.