About the Book
Why have thousands of young Jews, otherwise unengaged with formal Jewish life, started more than sixty innovative prayer communities across the United States? What crucial insights can these grassroots communities provide for all of us?
Rabbi Elie Kaunfer, one of the leaders of this revolutionary phenomenon, offers refreshingly new analyses of the age-old question of how to build strong Jewish community. He explores the independent minyan movement and the lessons it has to teach about prayer, community organizing and volunteer leadership and its implications for contemporary struggles in American Judaism.
Along with describing the growth of independent minyanim across the country, he examines:
The roles of liturgy, space, music and youth in this new approach to prayer
Lessons to be learned from the concept of immersive, intensive Jewish learning in an egalitarian context
Jewish values in which we must invest to achieve a vibrant, robust American Jewish landscape for the twenty-first century
PRAISE FOR EMPOWERED JUDAISM
"A thoughtful, wise, passionate, relevant, exceptionally useful and user-friendly book."
—Arnold M. Eisen, Chancellor of the Jewish Theological Seminary
"Rabbi Elie Kaunfer has emerged as an insistent and compelling voice for enhanced Jewish life in the twenty-first century. The minyanim of which he speaks are symbolic of a deeper vision: an entire community that is empowered, knowledgeable and committed to the richness of the Jewish tradition. Nothing short of a manifesto for the next generation, a challenge to the Jewish community about what we are likely to fall into by default if we do not take Kaunfer's book seriously."
—Rabbi Lawrence A. Hoffman, professor of liturgy, worship and ritual, Hebrew Union College; co-founder, Synagogue 3000; editor, My People's Prayer Book: Traditional Prayers, Modern Commentaries series
"Taps into the spiritual yearning of a generation that hungers for a Jewish religious practice that is rich, meaningful and unapologetic. Captures the remarkable phenomenon of a newly emergent movement to reclaim vibrancy and vitality in Jewish life. [An] important and valuable contribution to the Jewish future."
—Rabbi Sharon Brous, founder, IKAR
"Remarkable.… A 'must read' for people trying to understand this vital new phenomenon as well as for individuals seeking to connect to Judaism in a new way—be they lay people, scholars, or leaders of the American Jewish community."
—Rabbi Irving "Yitz" Greenberg, founding president, Jewish Life Network; founding president, CLAL: The National Jewish Center for Learning and Leadership
"This is no ordinary book. This is a call to revolution … a passionate and brilliant manifesto [that] sets out a new course for Jewish life in America…. For an American Jewish community despairing of its future, this book is a prophecy of hope and new vision."
—Rabbi Edward Feinstein, editor, Jews and Judaism in the 21st Century: Human Responsibility, the Presence of God and the Future of the Covenant
"This moving book reveals a critical new development in the lives of younger American Jews. Not often does one have the opportunity to read such an inside story on dramatically positive Jewish history in the making. Elie Kaunfer's vivid account of participating in the creation of Hadar, an 'Independent Congregation' community that fosters Jewish liturgical and intellectual rigor, egalitarian ethics and group responsibility, and spirituality at the same time is compelling. His analysis of the strengths and weaknesses of conventional American Jewish congregations is spot-on, and will surely provoke lively and important conversations within and outside those congregations. Equally gripping is Kaunfer's own story of initial resistance to encounters with the Divine, and his eventual immersion into a passionately religious path of Jewishness."
—Sylvia Barack Fishman, chair, Department of Near Eastern and Judaic Studies and professor of contemporary Jewish life, Brandeis University; author, The Way Into the Varieties of Jewishness
"A roadmap to the future. His incisive understanding of the mindset of early twenty-first-century Jews (especially young ones) informs this accessible and eloquent treatise on building resonant, inspired communities. Kaunfer argues persuasively that transformations in contemporary culture mandate changes in Jewish communal and spiritual structures—and that such innovations have always been integral to the evolution of the Jewish people."
—Felicia Herman, executive director, The Natan Fund
"Accessible yet sophisticated…. The practical suggestions about worship are valuable not only to the world of independent minyanim but to synagogue minyanim and sanctuary services as well…. Will challenge both those who want to follow in Kaunfer's footsteps and those who disagree with him."
—Rabbi David A. Teutsch, Wiener Professor of Contemporary Jewish Civilization at the Reconstructionist Rabbinical College; editor, Kol Haneshamah Prayerbook series; author, Spiritual Community: The Power to Restore Hope, Commitment and Joy
"Practical, highly readable…. Read this book to understand the spiritual impulses of a generation of seekers who are not ready to give up tradition and not ready to give up on their own empowerment within Judaism either."
—Dr. Erica Brown, author, Spiritual Boredom: Rediscovering the Wonder of Judaism and Inspired Jewish Leadership: Practical Approaches to Building Strong Communities
"Takes us on an inspiring insiders' guided tour of the new independent minyan phenomenon, which is rejuvenating the Jewish landscape. Egalitarian, joyous, upbeat, participatory, spiritually alive—no wonder young people find a home in the minyanim! Enjoy this testimony to the vitality of Jewish life and the enthusiasm of young people to make it their own."
—Rabbi Marcia Prager, ALEPH: Alliance for Jewish Renewal; author, The Path of Blessing: Experiencing the Energy and Abundance of the Divine
"Essential reading for anyone interested in twenty-first-century life of Jewish prayer, study, and community…. A great read and a wonderful contribution to the Jewish bookshelf."
—Riv-Ellen Prell, professor of American studies, University of Minnesota; author, Prayer and Community: The Havurah in American Judaism
"Rabbi Elie Kaunfer offers...an informed view of a growing, grassroots movement seeking to create and foster vibrant Jewish life."
—The Jewish Week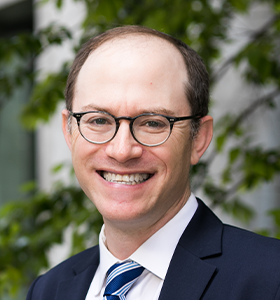 Rabbi Elie Kaunfer
Rabbi Elie Kaunfer is President and CEO of the Hadar Institute. Elie has previously worked as a journalist, banker, and corporate fraud investigator. A graduate of Harvard College, he completed his doctorate in liturgy at the Jewish Theological Seminary, where he was also ordained. A Wexner Graduate Fellow and Dorot Fellow, Elie is a co-founder of the independent minyan Kehilat Hadar and has been named multiple times to Newsweek's list of the top 50 rabbis in America. He was selected as an inaugural AVI CHAI Fellow, and is the author of Empowered Judaism: What Independent Minyanim Can Teach Us About Building Vibrant Jewish Communities (Jewish Lights, 2010). He also received semikha from his long-time teacher, Rav Daniel Landes. Elie serves on the board of Natan and the Harold Grinspoon Foundation, and on the advisory board of Upstart. Click to watch a short video of Elie as scholar- in-residence at the General Assembly of the Jewish Federations of North America.