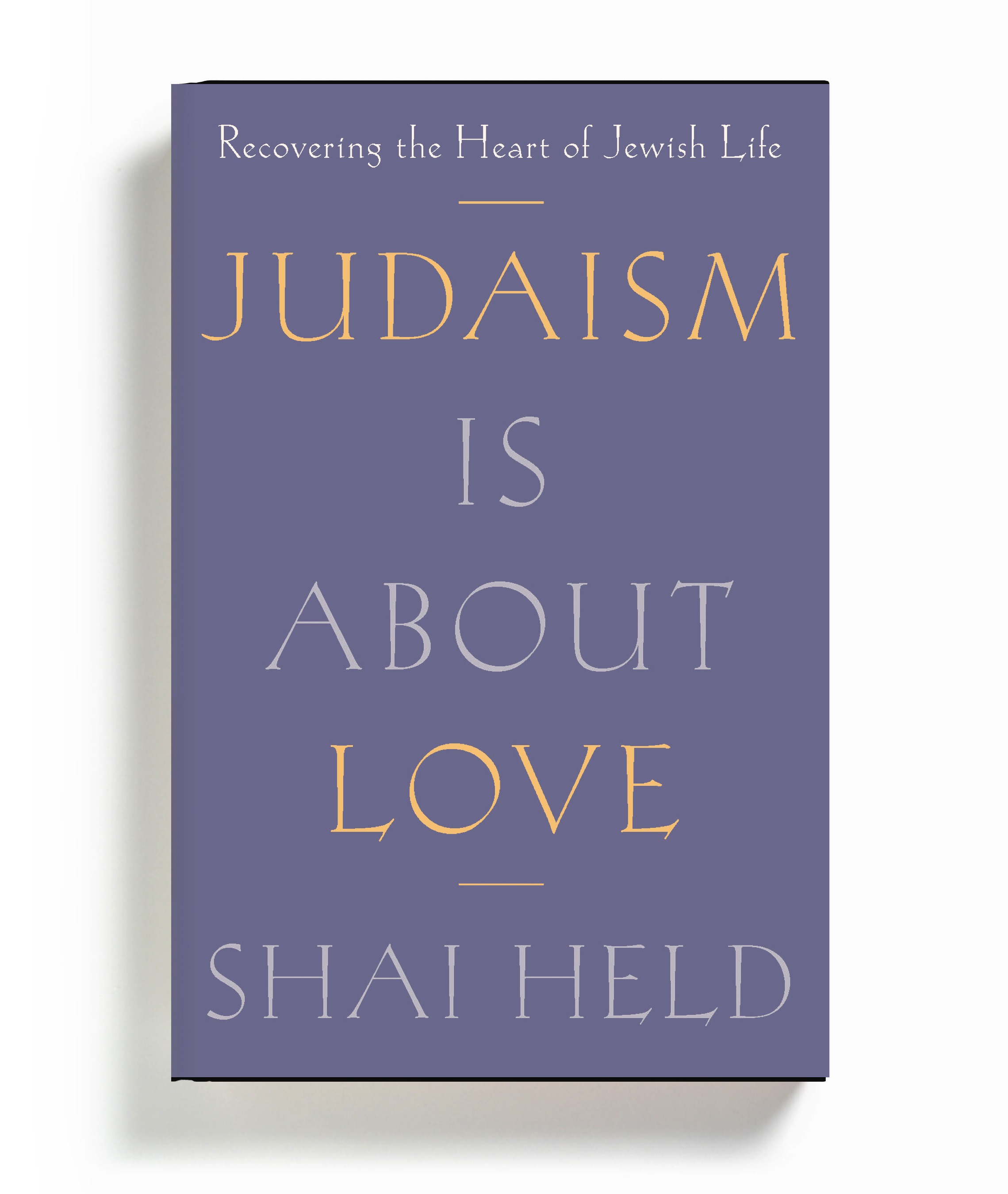 About the Book
A profound, startling new understanding of Jewish life, illuminating the forgotten heart of Jewish theology and practice: love. A dramatic misinterpretation of the Jewish tradition has shaped the history of the West: Christianity is the religion of love, and Judaism the religion of law. In the face of centuries of this widespread misrepresentation, Rabbi Shai Held—one of the most important Jewish thinkers in America today—recovers the heart of the Jewish tradition, offering the radical and moving argument that love belongs as much to Judaism as it does to Christianity.
Blending intellectual rigor, a respect for tradition and the practices of a living Judaism, and a commitment to the full equality of all people, Held seeks to reclaim Judaism as it authentically is. He shows that love is foundational and constitutive of true Jewish faith, animating the singular Jewish perspective on injustice and protest, grace, family life, responsibilities to our neighbors and even our enemies, and chosenness.
Ambitious and revelatory, Judaism Is About Love illuminates the true essence of Judaism—an act of restoration from within.
Praise for Judaism is About Love
"This is a truly magnificent book, necessary for our troubled times. Shai Held, one of Judaism's leading scholars and thinkers, rebuts facile stereotypes of Judaism that contrast Jewish law with Christian love, and demonstrates the centrality of love, imagination, and compassion in the Jewish tradition. Held's discussion is nuanced: love of strangers is an unequivocal mandate; concerning the love of enemies, however, there are goals, but no easy answers. Nonetheless, Judaism commands, in all of the traumatic situations of our lives, an exacting self-development of emotions and imagination, so that we can hope to live together well with others, as strangers and fellows, in this difficult world. Held's book should be required reading for Jews and non-Jews alike."
- Martha C. Nussbaum, Distinguished Service Professor of Philosophy and Law, The University of Chicago
"There are good thinkers, there are great thinkers, and then there are once-in-a generation thinkers like Rabbi Shai Held. Rabbi Held's astounding and contagious knowledge of his faith, mixed with his endlessly curious dives into and dialogue with other religious and philosophical traditions, make him an utterly unique figure in religion and philosophy. As a Christian, my first and enduring thought as I finished reading Rabbi Shai Held's Judaism Is About Love was simple and said out loud: 'I have met the Jewish Rowan Williams.' Christians who teach and preach your faith or who have ever wondered what Jews really believe: read this book, more than once if possible. It's that good and that important."
- The Rev. Dr. Patricia Lyons, Senior Advisor to the Dean on Evangelism and Senior Lecturer in Practical Theology at Virginia Theological Seminary
"This magnificent book combines prodigious learning, theological depth, ethical insight, and spiritual inspiration – all on terms that are edifying to scholars and non-experts alike. If, after centuries of ignorance and contempt, we Christians are finally to learn the depth and coherence of Jewish traditions of biblical interpretation, practice, and prayer, Judaism Is About Love is our best chance in this generation."
- Ellen F. Davis, Amos Ragan Kearns Distinguished Professor of Bible and Practical Theology, Duke Divinity School
"Immensely learned, genuinely accessible, and overwhelmingly moving, Judaism Is About Love is destined to exert a massive and enduring influence upon Jewish life and thought; I would go so far as to predict that people will still be reading it centuries from now. Jewish and non-Jewish readers alike will be enlightened and inspired by this theological magnum opus!"
- Rabbi David Ellenson, Chancellor Emeritus - Hebrew Union College-Jewish Institute of Religion
"For a long time the world has needed a Jewish thinker as treasured and respected by both Jews and Christians as Rabbi Abraham Joshua Heschel once was. It has also needed truly significant books that make Judaism accessible, compelling, and believable to a mass audience. Shai Held is that thinker and Judaism Is About Love is that book. Held's portrayal of Judaism as a humane, compassionate, and generous religion of love will bring Jews closer to Judaism and will enable Christians to see Judaism in a radically new light. The book is written with genuine intellectual honesty and a captivating style which will appeal to a wide range of readers."
- Rabbi Irving (Yitz) Greenberg, theologian, author, The Triumph of Life: A Narrative Theology of Judaism
"Judaism Is About Love is an extraordinary book, overflowing with wisdom and insight. Shai Held shows us how love serves as the cornerstone of Jewish belief and practice. Building on that foundation, he draws on a remarkable array of sources, both sacred and secular, to explore love in psychology, parenting, ethics, and repentance. Both edifying and inspiring, Judaism is about Love offers a path to better ourselves by embracing that most precious of God's gifts: to give love and to receive it."
- Jerome Groopman MD, Recanati Professor of Medicine, Harvard University
"In this magisterial work, Rabbi Shai Held clearly demonstrates from the Hebrew Bible, Talmud, and other authoritative Jewish sources that Judaism is about Love. This work is an indispensable contribution to Jewish ethics, to be sure, but really to all ethical reflection. In this bloody, hateful era, how desperately we need this nuanced exposition of the theological ethics of love."
- Rev. Dr. David P. Gushee, Past President, American Academy of Religion, Society of Christian Ethics
"Powerful, learned, and passionate, Judaism Is About Lovecites texts and thinkers from the Bible to the present day, ranges widely over Christian thought and secular philosophy, and brings telling lessons from Held's personal experience – all of them marshalled to make the point that God loves the human beings created in God's image, and wants each of us to become vehicles through which God's love, grace and compassion flow to others. One leaves it inspired by the author's wisdom and grateful for his tradition's counsel on how to spend our time on earth well."
- Arnold M. Eisen, Chancellor Emeritus, Jewish Theological Seminary of America
"In this provocative book, Shai Held challenges the widely held view that Judaism is mainly about justice and law, while Christianity is mainly about love. Through a learned but beautifully accessible interpretation of Biblical and Talmudic texts, Held shows that Jewish ethics and theology are fundamentally about love―the love expressed in God's creation of the world, and the love of the neighbor, the stranger, of humanity, and of God that the Torah commands. This book will prompt readers, religious and secular alike, to rethink the ethical teachings of Judaism and Christianity and to reflect anew on the meaning of a good life."
-Michael J. Sandel, author of The Tyranny of Merit: Can We Find the Common Good?
"Some books stimulate the mind; others stir the heart or elevate the soul; still others move us to act and live differently in the world. Judaism Is About Love is that extraordinarily rare book that does all three at once. Destined to be a classic of Jewish thought, this is a text to be read, studied, and savored―not only by individuals but, perhaps most fittingly, b'hevruta, in dialogue among beloved learning companions."
-Rabbi Sharon Cohen Anisfeld, President, Hebrew College
Rabbi Shai Held
Rabbi Shai Held-- philosopher, theologian, and Bible scholar-- is President, Dean, and Chair in Jewish Thought at the Hadar Institute.  He received the prestigious Covenant Award for Excellence in Jewish Education, and has been named multiple times by Newsweek as one of the fifty most influential rabbis in America and by the Jewish Daily Forward as one of the fifty most prominent Jews in the world. Rabbi Held is the author of Abraham Joshua Heschel: The Call of Transcendence (2013) and The Heart of Torah (2017).  His next book, Judaism is About Love, will be published by Farrar, Straus, & Giroux in March 2024.