About the Book
Music is the soul's native language: a prayer, a divine ladder upon which we climb between the Earth and the Heavens. But music also reaches horizontally across our social fractures and dogmas and connect us one with the other. Just as it cuts the nonsense away from our hearts, music opens our ears so that we can listen to the subtle nuances and sacred whispers of the world around us. In every moment, music encourages us to ask ourselves: Can we hear the songs that are already being sung by all of creation?
In The Torah of Music, Joey Weisenberg brings together a comprehensive collection of 180 curated texts from the Jewish, musical-spiritual imagination. In the first half, Weisenberg reflects on ancient texts alongside stories from his life as a musician. In the second half, Weisenberg presents a bilingual 'open library' of traditional texts on the subject of music and song, garnered from over three thousand years of Jewish history, to open up the world of Jewish musical thought to all who are willing to join the song. 
Praise for the Torah of Music
"I have been waiting for this book! The Torah of Music is at once a sourcebook for Jewish music texts, a poetic lovesong and a personal memoir on the transformative potential of music to change us and change communities. Weisenberg, a master shaliach tzibbur and musician, helps us understand the universal power of music through the distinctive vocabulary of Jewish texts and traditions. A beautiful and important addition to every Jewish library."
-Rabbi Angela Buchdahl

"It is rare for a powerful singer/chanter to be also a delicate and incisive writer. To write about the Torah of song requires both and Joey Weisenberg lives up to the need. Reading him brought me deeper into the world of chanting the Spirit, and higher into the poetry and politics of Torah. Breathing words, breathing melody he shows how the Holy One breathes both."
-Rabbi Arthur Waskow

"This book is a gift. It can do many things: inspire your prayer, connect you to wellsprings of Jewish wisdom, and have you humming while you read. Joey Weisenberg has collected a treasure chest of Jewish texts and presented them with wisdom gleaned from years of helping communities sing together with spirit and joy."
-Rabbi Dorothy Richman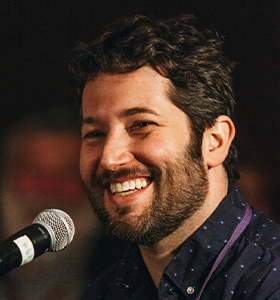 Joey Weisenberg
A virtuosic multi-instrumental musician, singer, and composer, Joey Weisenberg has devoted himself to opening up the sounds of people singing together in community. The founder and director of Hadar's Rising Song Institute, which aims to cultivate the grassroots musical-spiritual creativity of the Jewish people, Joey works to educate and train communities around the world to unlock their musical-spiritual potential and make music a vibrant, joy-filled force in Jewish life. Joey is the author of Building Singing Communities, a practical guide to bringing people together in song, as well as The Torah of Music, a treasury of Jewish teachings and insights about the spiritual nature of music, which received the National Jewish Book Award in 2017. A devoted student and teacher of ancient and traditional Jewish melodies, Joey composes new nigunim that have moved and inspired Jews around the world. He has released eight albums of original music, most recently L'eila, available on Rising Song Records.