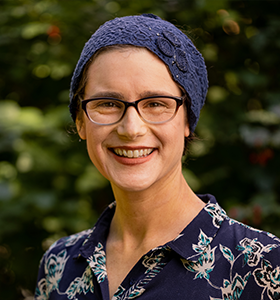 Parashat BeHukotai begins with an abundance of blessing—not only material blessing but psychological blessing as well:
ויקרא כו:ה
וְהִשִּׂ֨יג לָכֶ֥ם דַּ֙יִשׁ֙ אֶת־בָּצִ֔יר וּבָצִ֖יר יַשִּׂ֣יג אֶת־זָ֑רַע וַאֲכַלְתֶּ֤ם לַחְמְכֶם֙ לָשֹׂ֔בַע וִֽישַׁבְתֶּ֥ם לָבֶ֖טַח בְּאַרְצְכֶֽם׃
Leviticus 26:5
Your threshing shall overtake the vintage, and your vintage shall overtake the sowing; you shall eat your fill of bread and dwell securely in your land.
Not only will we always have the food we need, we also won't have to worry about the future because we will have tangible evidence of future blessing. God knows that it isn't enough for people to have what they need. Anxiety begins when we aren't sure about what is coming next.
As we read these words this year, it comes on the backdrop of real concerns about food shortages and safety due to climate crisis and war. For some, these fears may be for the future, while, for others, these are already very present fears. The curses of BeHukotai resonate, and we can point to various societal failures that have contributed to this reality, reasons for God to be "angry" at us.
At face value, the message of BeHukotai is to turn our fear into guilt, and for that guilt to motivate better behavior. In a similar genre to BeHukotai, Ancient Near Eastern literature often includes blessings and curses at the heels of a list of laws.1 The litany of curses in particular serves to establish the ruler's power and command obedience, with the hopes of reward if one obeys the laws, and fear of wrath and destruction if one does not. In the Torah, these curses aren't about fortifying the power of a flesh and blood ruler, but about motivating us to follow the Torah's guidance and do mitzvot. Perhaps there is some efficacy in the fear and guilt that undergird the curses as we reach for a sense of control and agency. If I only do better, the thinking goes, then I can make the problem go away.2
But severe problems are hardly so simple. As we face what is not a nightmarish curse but a harsh reality of uncertainty about sustainability and abundance, the punishment and guilt model might not serve us well. We have to stare these problems in the face, together, and find pathways forward. Before embarking on a pathway towards rabbinic learning, I spent multiple summers researching complex factors contributing to climate change. This scientific team involved stepping away from high-pitched divisive politics into a stance of staring a problem in the face as a reality, and working collaboratively to do our best to understand the problem and propose responses. This is the stance that must emerge from BeHukotai.
Instead of God angrily yelling at us and inflicting destruction, we can think of ourselves as staring these problems in the face with God. In defiance of the image of an angry and punishing God, midrash teaches that God is "with us" in times of trouble:3
שיר השירים רבה ב:ג
אמר ר' ראובן: אלו לא היה הדבר כתוב אי אפשר לאומרו כביכול (ישעיה סו, טז) "כי באש ה' נשפט", ה' שופט אין כתיב כאן אלא נשפט, הוא שאמר דוד ברוח הקדש (תהלים כג, ד) "גם כי אלך בגיא צלמות לא אירע רע כי אתה עמדי."
Shir HaShirim Rabbah 2:3
Said R. Reuven: If Scripture hadn't spoken of this, it would have been impossible to say, as it were. "For God is judged in fire" (Isaiah 66:16). It is not written here "God judges" but "God is judged." This is what David said with the holy spirit, "Even if I walk into the valley of the shadow of death, I will not fear because You are with me" (Psalm 23:4).
Moving beyond the God who angrily sends us into exile and remains far away, God is "with us" in exile. God becomes softer and more vulnerable in this picture. Yet, God wallowing in our misery with us doesn't necessarily help to address the problems we face.
Parashat BeHukotai puts us in the mindset of Israel before they enter the land, a neutral mindset where the blessings feel like fantasies and the curses feel like nightmares. But in midrash, this standpoint is turned on its head. In the opening of Eikhah Rabbah, an extended passage pairs each of the alphabetical verses in the first chapter of Lamentations with a verse that shares similar words but in the context of blessing. Standing in the midst of destruction, the midrash insists that things could have gone a different way.
איכה רבה פתיחתא יא
רַבִּי יִצְחָק פָּתַח (דברים כח, מז-מח): "תַּחַת אֲשֶׁר לֹא עָבַדְתָּ אֶת ה' אֱלֹהֶיךָ בְּשִׂמְחָה וּבְטוּב לֵבָב מֵרֹב כֹּל, וְעָבַדְתָּ אֶת אֹיְבֶיךָ" וגו'... אִלּוּ זְכִיתֶם הֱיִיתֶם קוֹרְאִים בַּתּוֹרָה (ויקרא כו, ה): "וִישַׁבְתֶּם לָבֶטַח", וְעַכְשָׁו שֶׁלֹא זְכִיתֶם הֲרֵי אַתֶּם קוֹרְאִים (איכה א, ג): "גָּלְתָה יְהוּדָה מֵעֹנִי."
Eikhah Rabbah Petihta 11
R. Yitzhak expounded: "Since you did not serve the Lord your God out of joy and a merry heart and abundance of everything, you will serve your enemies in hunger and thirst, naked and lacking everything" (Deuteronomy 28:47-48)… If you had merited you would be reading in the Torah, "you will dwell securely" (Leviticus 26:5). Now that you have not merited, you are reading, "Judah was exiled because of affliction" (Lamentations 1:3)
We might have imagined this midrash to read differently, putting the lamentations from the first chapter of Eikhah into conversation with the curses in the Torah that predicted these outcomes. "I told you so" is the message that would come through—you should have listened, you didn't, you suffered. Instead, each lament is paired with a verse that reminds us of what "could have" been. Ironically, even as the purported goal of the midrash is to scold us for disobedience, the effect of the midrash is to find our way back from lament into promises of hope and blessing.
What is most remarkable about this midrash is that it assumes we are reading Lamentations and that we are not reading the verses that describe hopeful blessing. But the fact of the matter is that we do read all of these verses of the Torah, each year. Although we may indeed be sitting in the midst of things gone wrong, our interface with Torah pulls us back into imagining—and reimagining—a different reality.
Throughout Sefer Vayikra, we have been amplifying the importance of a mutual intimacy in our relationship to the mishkan (tabernacle) and to God. This kind of underlying depth of trust in relationship may be the only thing that can help us move forward to address the problems that may feel like punishments and curses. God is "with us" in trouble not just to cry with us or lend a shoulder to cry on, so to speak, but to nourish the generativity and creativity that can help us find our way out.
As we anxiously wonder about future harvests and distribution, it is certainly important to notice the human failures that contribute to this "curse." But we don't need a relationship with God to exacerbate our already existing lament, and to linger in guilt. In Sefer Vayikra, God beckons us in, with whatever guilt and anxiety we may be carrying. God wants us to be part of a relationship of intimacy and trust. Only this kind of relationship with God—rather than fear of a punishing God—and only this kind of relationship with people—rather than hierarchies of fear and violence—will allow us to cultivate the creativity we need to address real problems we face day in, day out.
Shabbat Shalom.
---
1 A particularly famous example is the laws of Hammurabi.
2 To be sure, the idea of individual accountability rather than collective responsibility is not really present in the Torah until Devarim, and there it is debatable.
3 For some other expressions of this idea, see midrashim on the verse "I am with him in sorrow" (Psalm 91:15), e.g.: Shir HaShirim Rabbah 5:2, Mekhilta deRabbi Yishmael Pisha 14, Midrash Tehillim 46.